European seabass
Species description and status:  European sea bass (Dicentrarchus labrax, L.) is a high-value, mobile species with a pan-European distribution in coastal waters (Fig. 1).  Sea bass are heavily targeted by commercial fisheries and highly sought after by recreational fishermen.  Since 2015 the European commission has taken several measures to address the declining state of the Atlantic stock and protect livelihoods in the sector: 1) periodic area closures for commercial fishing activities, 2) reduced catch quotas, 3) increase of minimum landing size from 36 to 42 cm, and 4) a 1-fish bag limit for recreational fishermen.  Nonetheless, sea bass stocks have declined severely in recent years, following increased fishing pressure and low recruitment, and the International Council for Exploration of the Sea (ICES) recommends a moratorium on all bass catches in 2017 [1].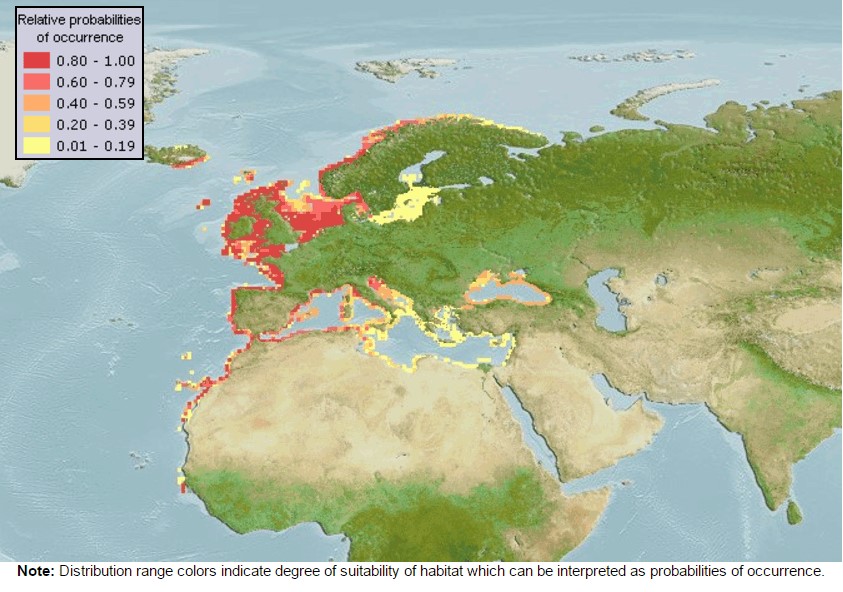 Fig 1. European sea bass distribution. Range colors indicate degree of habitat suitability which can be interpreted as probabilities of occurrence (from FishBase.org).
Knowledge gaps:  European sea bass movement patterns are not fully understood, and may be changing in response to rising sea temperatures.  Atlantic and Mediterranean sea bass populations are generally segregated but genetic evidence also suggests large scale movements occur across geographic basins [2].  Tagging studies from Northern Europe show that sea bass migrate seasonally [3, 4, 5], but equivalent data are lacking for Southern-Europe and the Mediterranean.
Regions of interest: Two broad geographic regions of interest exist for sea bass: 1) North-East Atlantic (Celtic Sea, Irish Sea, Southern North Sea, English Channel and Bay of Biscay), and 2) the Mediterranean Sea.  NE Atlantic stocks are in stark decline despite existing management measures, and additional data on bass movements are needed to improve conservation strategies.  In the Mediterranean Sea, a general lack of data on sea bass stock structure and migration patterns is hampering fact-based management and conservation.  Migration and connectivity of sea bass between regions via Gibraltar Strait also needs to be better characterized.
Telemetry tools: Size constraints make acoustic telemetry and data loggers the best available tools for characterizing sea bass movement patterns.  Fish tracking should be carried out in conjunction with sampling of natural markers to evaluate diet, fitness and population structure to provide supplementary information on ecology, life-history and population dynamics of sea bass.
Benefits within the ETN: Using the ETN to further characterize sea bass movements and behaviour throughout Europe would greatly enhance our ability to better manage this culturally and economically important species and assess whether the current management is sufficient to restore healthy population levels.  In addition ETN would give necessary insights in environmental preferences and possible barriers encountered during their journey.
Previous and current projects on sea bass:
C-BASS: A joint CEFAS-IFREMER data logger-based project investigating migration routes of Atlantic sea bass from the North Sea, to the Channel, Celtic Sea, Irish Sea and Bay of Biscay, and identifying spawning and feeding aggregation sites.
BARGIP: IFREMER project to acquire scientific data and knowledge to produce advice on integrated management of European sea bass for the North-East Atlantic.   Includes acoustic tagging campaigns. http://wwz.ifremer.fr/bar_eng/The-Bargip-project
NATIONAL BASS PROGRAM (Ireland): Inland Fisheries Ireland program of integrated sea bass research to provide scientific advice to support management and conservation of Ireland's bass resource.  Includes electronic and conventional tagging.  http://www.fisheriesireland.ie/Projects/national-bass-programme.html
Contacts:  Carl Meyer (carlm@hawaii.edu), Jan Reubens (janr@vliz.be), Barbara Koeck (barbara.koeck@glasgow.ac.uk)
References:
[1] ICES Advice  5.3.57 Sea bass (Dicentrarchus labrax) in divisions 4.b–c, 7.a, and 7.d–h (central and southern North Sea, Irish Sea, English Channel, Bristol Channel, and Celtic Sea), in ICES Advice on fishing opportunities, catch, and effort Celtic Seas and Greater North Sea ecoregions, ICES Advice 2016, Book 5
[2] Souche, E.L., Hellemans, B., Babbucci, M., MacAoidh, E., Guinand, B., Bargelloni, L., Chistiakov, D.A., Patarnello, T., Bonhomme, F., Martinsohn, J.T. & Volckaert, F.A.M. (2015b) Range-wide population structure of European sea bass Dicentrarchus labrax. Biological Journal of the Linnean Society, 116, 86-105.
[3] Pawson, M. G., Pickett, G. D., Leballeur, J. Brown, M., & Fritsch, M. 2007. Migrations, fishery interactions, and management units of sea bass (Dicentrarchus labrax) in Northwest Europe. – ICES Journal of Marine Science, 64: 332–345
[4] Quayle, V. A., Righton, D., Hetherington, S., & Pickett, G. 2009. Observations of the behaviour of European sea bass (Dicentrarchus labrax) in the North Sea. In Tagging and tracking of marine animals with electronic devices, pp. 103-119. Ed. by J. L. Nielsen, H. Arrizabalaga, N. Fragoso, A. Hobday, M. Lutcavage, and J. Sibert
[5] De Pontual, H., Ngo Tran, T., Lalire, M., Lazure, P., Garren, F., Drogou, M., Woillez, M. & Fablet, R. (2013). Understanding the spatial dynamics of European sea bass: new insights on seasonal migration patterns from electronic tagging off the coast of west Brittany. ICES CM 2013/O:05
Scroll To Top