European sea sturgeon
Species description and status:  Big fish with spindle-shaped body covered by five rows of bony scutes alongside. First dorsal scute fused with head. Possess two pairs of not fimbriated barbells in front of the mouth on half way between the tip of the rostrum and mouth. Upper lip continuous while lower lip is interrupted in the middle. It may reach a maximum size of about 1000 kg and more than 6 m in length (Kottelat & Freyhof 2007). The color of adult specimens is blue-black on the dorsal side shading to white on the ventral.
The species is distributed along the European coast of the Atlantic and northern Mediterranean as well as in the southern and western part of the Black Sea. It has been recorded also from the coast of Iceland. 
Nowadays it is considered to be the most endangered sturgeon species in the world (Paaver 1999). In the past it was one of the most widely spread sturgeons, but due to overfishing, damming, river regulation and pollution, it became extirpated from the majority of the European watersheds (Williot et al. 2002, 2009a; Jaric´ et al. 2009a). The only remaining populations are the ones inhabiting the Gironde–Garonne–Dordogne Basin in France and probably the Rioni River in Georgia (Williot et al. 2002). The population in Gironde decline since the 1990-ies.
The species is included in Appendix II of CITES and it is categorized as Critically Endangered by IUCN with decreasing population trend.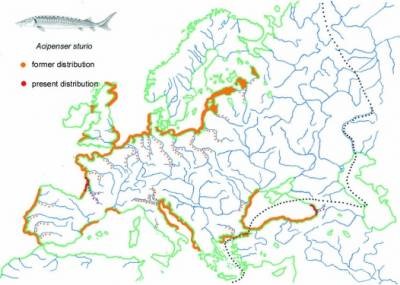 Figure 1. Distribution of Atlantic Sturgeon (Acipenser stellatus) taken from sveb.unife.it
Knowledge gaps: Migration routes, periods of migration and the distribution in marine and transitional waters are not well known. The effect of hydropower dam construction on the movements and reproduction success is also poorly understood. Tagging studies will provide more data about the movements, reproduction and spawning grounds of the species. Information about the wintering sites is also required.
Regions of interest: The regions of biggest interest are the Gironde–Garonne–Dordogne Basin in France as well as the Atlantic coast of North-western Europe.
Telemetry tools: Acoustic telemetry with data loggers would be probably the most useful tool for characterizing the movement patterns in freshwaters. Telemetry methods should be also used to research the Atlantic Sturgeon movements and behavior in the transitional, coastal and marine waters.
Benefits within the ETN: Using the ETN to further characterize Atlantic Sturgeon migration and behaviour in France and Atlantic coast of Europe would greatly enhance our ability to better manage this critically endangered species. Marine habitat of the species is a common territory of few countries so joint research efforts, sharing of infrastructure and international collaborations are required. In addition, ETN would give additional insights in the migration and environmental preferences of the species.
Contacts: Tihomir Stefanov (tishos@gmail.com)
References:
Gessner J (2000) Reasons for the decline of Acipenser sturio L., 1758 in central Europe, and attempts at its restoration. Bol Inst Esp Oceanogr 16 (1–4):117–126
Holcık J (2000) Major problems concerning the conservation and recovery of the Atlantic sturgeon Acipenser sturio L., 1758. Bol Inst Esp Oceanogr 16(1–4):139–148
Jaric I, Lenhardt M, Cvijanovic´ G, Ebenhard T (2009a) Acipenser sturio and Acipenser nudiventris in the Danube – extant or extinct? J Appl Ichthyol 25:137–141
Jaric I, Lenhardt M, Cvijanovic´ G, Ebenhard T (2009b) Population viability analysis and potential of its application to Danube sturgeons. Arch Biol Sci 61(1):123–128
Kirschbaum F, Gessner J (2000) Re-establishment programme for Acipenser sturio L., 1758: the German approach. Bol Inst Esp Oceanogr 16(1–4):149–156
Kottelat M., Freyhof J. 2007. Handbook of European Freshwater Fishes. Kottelat, Cornol Switzerland and Freyhof, Berlin, Germany. 646 pp.
Rochard E, Lepage M, Meauze´ L (1997) Identification et caracte´risation de l'aire de re´partition marine de l'esturgeon europe´en Acipenser sturio a` partir de de´clarations de captures. Aquat Living Resour 10:101–109
Trouvery M, Williot P, Castelnaud G (1984) Biologie et ecologie d'Acipenser sturio. Etude de la pecherie. Cemagref, Etude no 17, Se´rie Esturgeon no 1, p 79
Williot P, Rochard E, Castelnaud G, Rouault T, Brun R, Lepage M, Elie P (1997) Biological characteristics of European Atlantic sturgeon, Acipenser sturio, as the basis for a restoration program in France. Environ Biol Fish 48:359–370
Williot P, Arlati G, Chebanov M, Gulyas T, Kasimov R, Kirschbaum F, Patriche N, Pavlovskaya LP, Poliakova L, Pourkazemi M, Kim Y, Zhuang P, Zholdasova IM (2002) Status and management of Eurasian sturgeon: an overview. Int Rev Hydrobiol 87(5–6):483–506
Williot P, Rochard E, Rouault T, Kirschbaum F (2009a) Acipenser sturio recovery research actions in France. In: Carmona R et al (eds) Biology, conservation and sustainable development of sturgeons. Springer, Dordrecht, pp 247–263
Scroll To Top